If you are newly pregnant (or thinking about becoming pregnant) this post will be invaluable for you. In this post I will share my favorite morning sickness tips so that you will have a more pleasant and joyful first trimester.
When I became pregnant with my first child I assumed I would not get morning sickness and would avoid any early signs of pregnancy. I think deep down I thought that if I acknowledged morning sickness as an option, I would therefore bring it upon myself and get sick. Ha! That was a classic first trimester mistake!
(If you have come looking for morning sickness remedies, you've come to the right place. Not only have I written an eBook called Morning Sickness Remedies, I also have many articles all about morning sickness remedies. For all the information you need in one place, hop on over to Amazon to get your copy of Morning Sickness Remedies.)
——->>>>>>> link to Amazon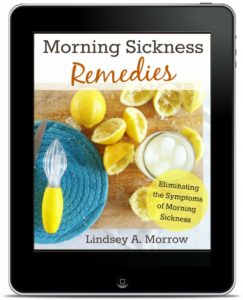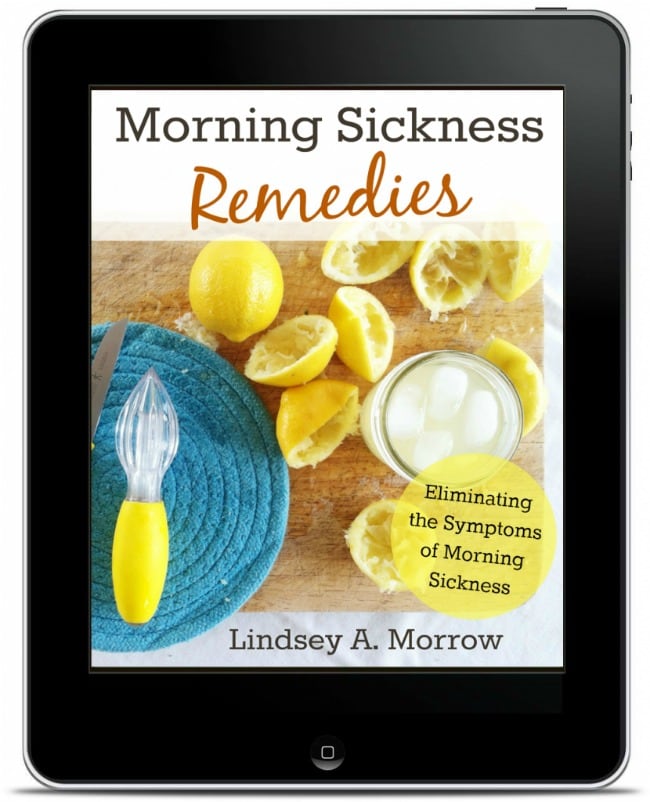 What Does Morning Sickness Feel Like?
Much to my dismay, around five weeks into the pregnancy (three weeks after conception) I started feeling like my blood sugar was really low and that if I didn't eat something to make it get higher, I would become sick. However after eating food, I unfortunately still felt sick.
Ugh, that was my first encounter with "morning sickness".
When Does Morning Sickness End?
I felt nasty for a long time in my pregnancy. I looked forward to the magical second trimester when at 13 weeks I would stop feeling sick. Yeah, that never happened. I felt yucky until 17 weeks – WAY longer than I expected.
Morning sickness is so depressing, and I think because I was feeling down in the dumps I wasn't even motivated to change anything to make it better. I gave up and wallowed in my misery and felt sorry for myself.
Having gone through pregnancy sickness three times there are some things that I would do differently for a future pregnancy.
This is a two part post. The first, this post, is a compilation of my ideas to cure morning sickness. And the second post, is a collection of the best foods for morning sickness relief that I received from Mother Rising readers, friends and family.
Below are my ideas to cure or alleviate pregnancy sickness.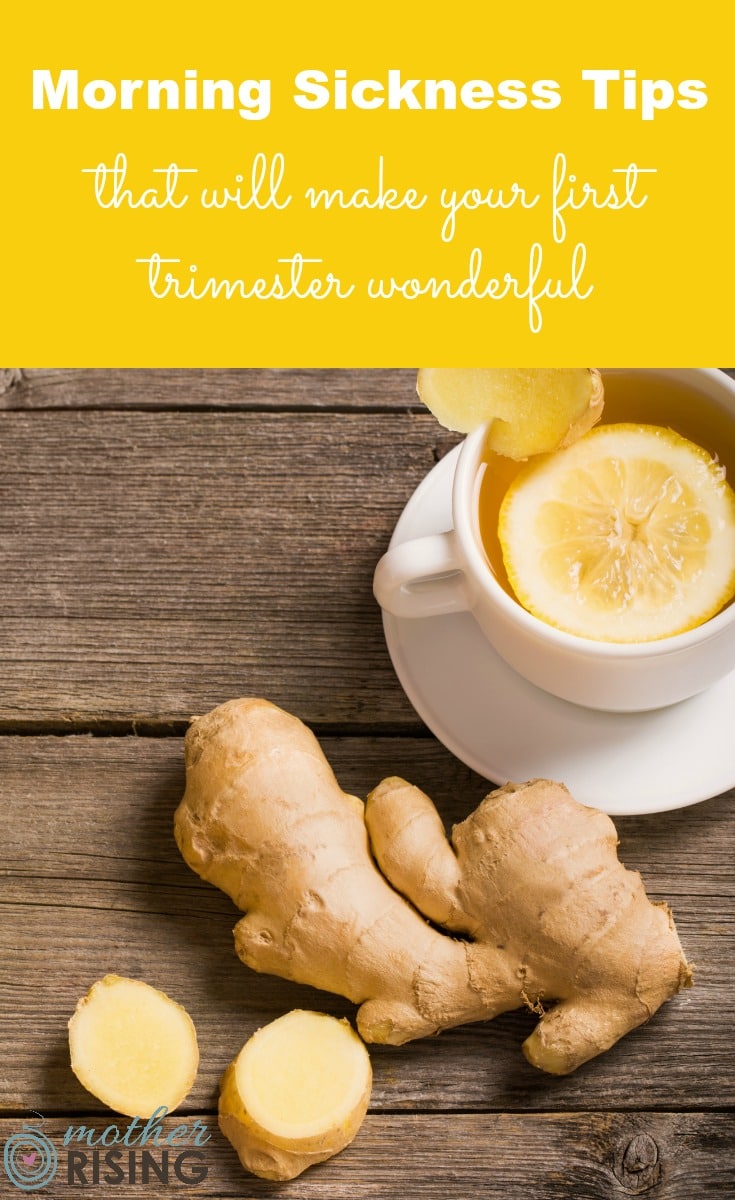 Morning Sickness Tips That Will Make Your First Trimester Wonderful
Morning Sickness Tips for Food
Food is your enemy and your friend. Eat even if you feel like you will be sick. Eventually, the food will make you feel better so it's worth it in the long run.
Don't wait too long between meals and snacking.
Eat a mixture of protein and carbs/sugars. For example, cheese and apples.
In the morning, eat anything that appeals to you. A bowl of cereal is a good option. After you have eaten something appealing, try to eat protein like an egg. If you can eat this, it will carry you till your next snack or meal.
Plan for snacking when you'll be out of the house. Bring a bunch of snacks with you and carry them in your purse. Don't be like me and assume you'll be fine. Prepare for the inevitable and bring food.
Ask your friends for lots of food ideas. I got the two suggestions of quiche and cheese sticks. I ate those for awhile and I quickly got wickedly grossed out by both. Move on to the next food suggestions and don't look back. (I haven't eaten that particular kind of quiche since.)
Visit your mother (or other friends and relatives) and have her cook for you. When I got out of my house and kitchen, and someone fed me I felt amazing.
After you find out you are pregnant but BEFORE you get morning sickness, cook 3-5 freezer meals for the days you CANNOT cook, but need something now. You could also try:
Morning Sickness Tips for the Home
As soon as you find out you are pregnant but BEFORE you get morning sickness, clean out your microwave, fridge, garbage cans and clean your bathrooms. This will lessen any weird lingering smells.
Take the trash out every day. Do not let trash fester.
Have your partner or husband open the fridge and take out the items that you need. Every time I opened my fridge I would gag.
Make your house smell wonderful. Light your favorite candles or diffuse some essential oils, but make sure you love the smell. If the smell starts to stink, switch it up!
Have some lemon essential oils on hand. Or a lemon. Sniff it when you think you're feeling sick.
Refuse to let your husband butcher deer and clean fish (or do other gross things) in your kitchen. (I have these awful memories of my husband bringing home deer and having blood and guts in my kitchen. The deer wasn't as bad as the fish. Fish, and fishermen should be kept away from sick, pregnant people.)
Get plenty of sleep and takes naps when you can.
Morning Sickness Tips for Work
Keep busy. Some of my less sick times was when I was at work, very busy.
Consider public speaking. I know this sounds insane, but the adrenaline from public speaking negates morning sickness.
Keep a set of essential oils for morning sickness at work and/or in the car. Essential oils are perfect for preventing you from "losing it" in the worst of circumstances.
Light a candle and/or use a diffuser for essential oils at work.
Keep a trash can handy and make sure it has a liner.
Keep a stash of pads handy as well. Sometimes the force of vomiting can unfortunately make us pee our pants.
Morning Sickness Tips That Will Make Your First Trimester Wonderful
Those are my morning sickness tips how to cure or alleviate morning sickness. If you are interested in learning more about morning sickness so you can best treat, reduce and hopefully ELIMINATE your symptoms I have written many articles all about morning sickness remedies.
Hop on over here to check them out
!