2019 was another good year for pregnancy books! If you're interested in pregnancy AND love to read, you're going to love this book list. This short list of the best pregnancy books of 2019 are solid choices that will encourage you towards a healthy pregnancy, natural childbirth, and happy postpartum. Let's dive in!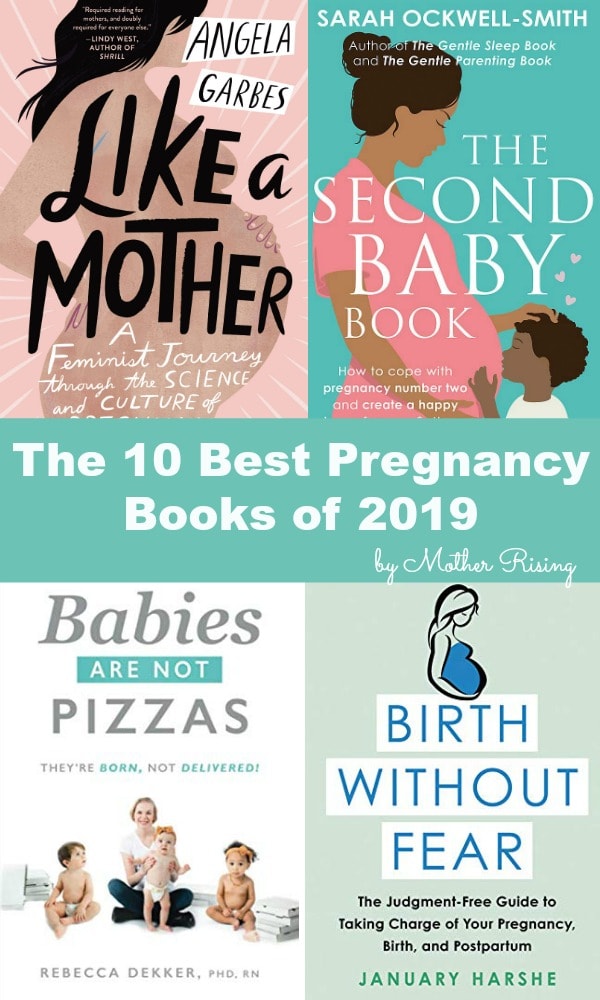 Other Best Pregnancy Book Lists, by Mother Rising
Just a heads up, the following are the last four years worth of "best of" pregnancy books for that particular year.
Top 10 Natural Pregnancy Books of 2015
The Best Pregnancy Books of 2017
But there are so many more good books to read! Book lovers don't want a list of the ten best pregnancy books of 2019. They demand more! Book lovers have rights too! Right?! 😉
If you need a book I've got you.
Powerful Infertility Books That Will Bring You Results
Best Pregnancy Books for First Time Moms
Top 10 First Trimester Pregnancy Books
10 of the Best Pregnancy Books You Must Read in the Second Trimester
Best Pregnancy Books to Read in the Third Trimester
The Best VBAC Books for Planning a VBAC
And the icing on the cake, here's my top pregnancy book picks of all time.
I like pregnancy book lists. 🙂
The Best Pregnancy Books of 2019
I digress. Now… for what you've all been waiting for. The best of the best pregnancy books of 2019. In no particular order, here we go!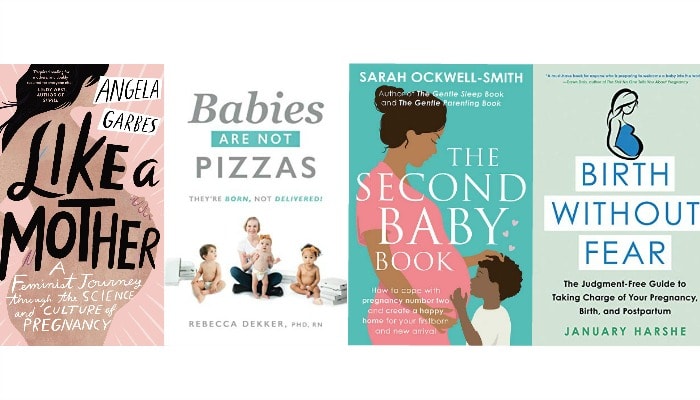 They're Born, Not Delivered
by Rebecca Dekker
Summary: If you love the website Evidence Based Birth, you probably need to get a copy of Babies Are Not Pizzas. In this book, Dekker shares her captivating journey to becoming a childbirth advocate and educator, all while weaving – you guessed it – evidence based information throughout. As a childbirth educator myself, I appreciate her willingness to question everything we do in maternity care. It's about time we questioned why we do what we do.
Nutritious Mocktails for the Mom-to-Be
By Diana Licalzi and Kerry Jane Criss
Summary: Sometimes drinking water gets boring, pregnant or not, am I right? Enter the nutritious mocktails of Drinking for Two. Lest you become concerned, "all of our mocktail recipes are booze-free, low in added sugar, and made with nutritious ingredients that are safe for pregnancy but appropriate for everyone." Not only are there a ton of really tasty recipes, but there's also helpful pregnancy nutrition information in there too. This book would be fun to use when planning a baby shower, and then give it away as a prize or to the mama-to-be.
Monthly Checklists, Activities, and Journal Prompts
By Aubrey Grossen
Summary: The First-Time Mom's Pregnancy Journal is one of the newest pregnancy journals on the block! Lots of prompts for journaling, a handful of pages for photos, and checklists of things to consider at each stage of pregnancy (like where baby will sleep, etc.). If you're looking for a visually pleasing, basic pregnancy journal, this is a solid choice. Just make sure to buy it early on in pregnancy, because it starts as soon as you find out you're pregnant!
The Judgment-Free Guide to Taking Charge of Your Pregnancy, Birth, and Postpartum
By January Harshe
Summary: Birth Without Fear is a really great book and I highly recommend it. Harshe does a great job of teaching new parents how to advocate for themselves and have healthy boundaries during a time of life that is inherently vulnerable, unknown, and confusing. The one thing I dislike about the book is a lack of emphasis on taking a really good childbirth class. Other than that, two thumbs up!
A Feminist Journey Through the Science and Culture of Pregnancy
By Angela Garbes
Summary: Like a Mother is an interesting read for those who want to examine the information that comes their way during pregnancy alongside the information our culture "knows" already, and move forward in an informed way during each unique pregnancy. This is one of my favorite pregnancy books of 2019 soley because it mentions yours truly, Mother Rising (the beginning of chapter 1). Such fun!
How to cope with pregnancy number two and create a happy home for your firstborn and new arrival
By Sarah Ockwell-Smith
Summary: Having a second child is a bittersweet change in the home. It's a wonderful prospect to give your firstborn a sibling, but heart wrenching to watch them struggle through the transition. Enter The Second Baby Book. Full of tips, tricks, and things to ponder, this book is a great book to read if you're pondering having a second child, or are in the throws of pregnancy and transitioning to more than one.
Nurturing Brain Development During Pregnancy and the First Year
By Rebecca Fett
Summary: With the rise of disorders like ASD and ADHD, Brain Health From Birth is a must read for all new parents. This book will help you to choose nutritious foods, take the right supplements, get the right vaccines, and create the right environment, all to help your baby develop as nature intended. Yes, it's a lot of information, but ignorance is not bliss – the stakes are too high. The health and wellness of our children's minds and bodies are at stake.
The New Dad's Guide to Baby's First Year
By Adrian Kulp
Summary:
We're Parents! is a great book for dads, especially first time dads. The way Kulp writes is extremely relatable and disarming, which is helpful considering the emphasis he makes on building a partnership in parenting instead of "helping mom out", if that makes sense. If you're looking for an entertaining, easy to read, yet very helpful book for new dads, this is a solid choice.
Your Body Your Baby Your Choices
By Milli Hill
Summary: As a fellow proponent of asking ourselves why we do the things we do and why the birthing industry is the way it is, Give Birth Like a Feminist was a really interesting book to read with lots of food for thought. If you're looking for a book that will empower you on your journey to becoming a parent, but also to be a part of the solution, this is your book. Also, I highly recommend listening to this one on Audible! The author is also the narrator and she has a great voice.
A How To Guide for Birthing Unassisted
By Heather Baker
Summary: Home Birth On Your Own Terms
was almost left off this list, simply because I don't like the idea of women birthing by themselves. After attending births, many of them out of the hospital, I've become extremely grateful for awesome care providers that care for women and their families as if they were their own. However, not all women have this level of support. For some women, giving birth at home, even alone, may be a safer alternative to whatever options they may or may not have in their community. These women need support and education too, which is why this book may be a good fit for some. That being said, this is a great book to read to prepare to give birth on your own and is likely helpful if you're still trying to figure out if free-birthing is for you.
The Best Pregnancy Books of 2019
To recap, here are my top pregnancy book picks from 2019.